1.5-Hour Self-Drive BBQ Boat Hire - Group of 1 to 6 people - MANDURAH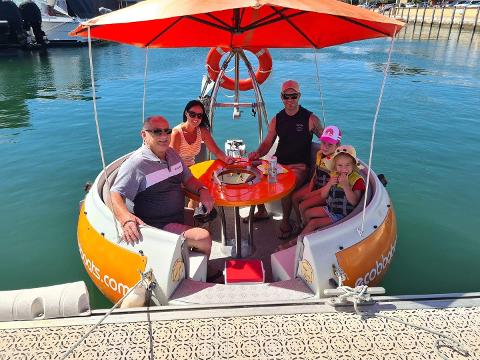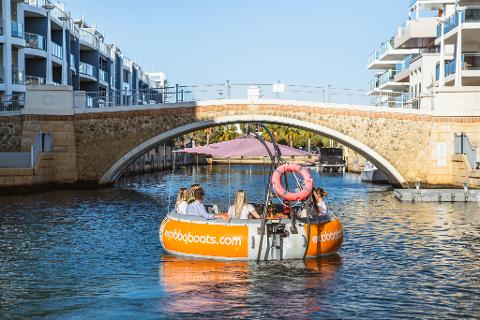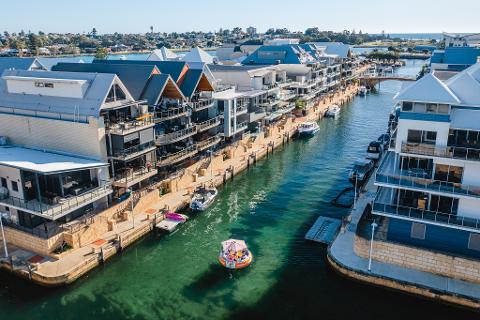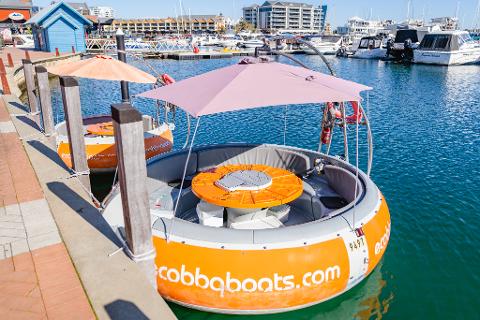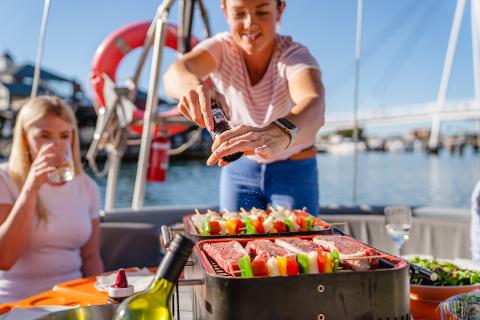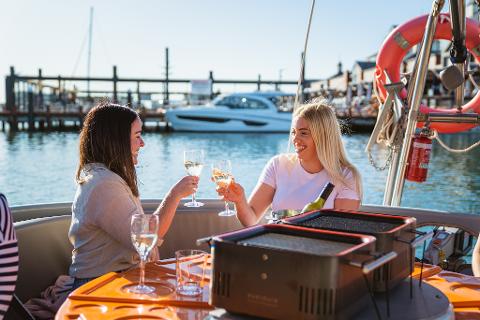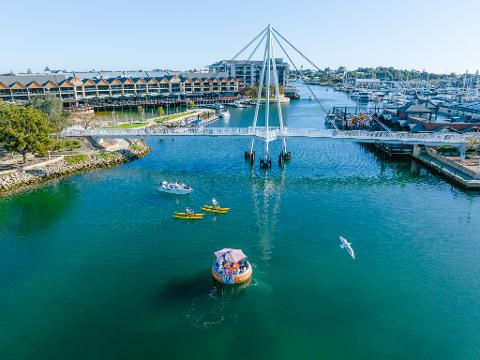 Duration: 2 Hours (approx.)
Location: Mandurah, WA
Product code: PFRC5R
Be your own captain and cruise Mandurah's Ocean Marina and Venetian Canal in style onboard Western Australia's only donut-shaped electric boats while enjoying a picnic or cooking your very own barbecue.

Drive past impressive yachts as well as trendy bars and restaurants to Dolphin Pool, a small inlet with shallow bays and mooring spots. Cruise, grill and chill while taking in beautiful views. Bottlenose dolphins, swans and pelicans are regularly spotted in this area.
If you'd like to do a barbecue on board, please choose a charcoal BBQ from our list of optional extras.
We will also provide all cooking utensils.
Just bring your own food and drinks.
No skipper's ticket or boat experience required!
RENTAL INCLUDES:
1.5 hours of BBQ boat rental plus 20 mins safety briefing and equipment
Eco-friendly disposable tableware ~ plates, cutlery, napkins, cups, tongs, sharp knife & bin bag

Use of Bluetooth music system for your music
Use of charcoal barbecue (if booked as an optional extra)
OPTIONAL EXTRAS
Choose a charcoal BBQ from our list of optional add-ons. You will be taken to our list of optional extras after clicking the 'Book Now' button.

DATES & TIMES
Mandurah BBQ Boats operate daily during peak season (November-May) and weekends only over the winter months (June-October). If you would like to request a date not scheduled please call us on 08 9581 1242 and our team will assess if this is possible.
Departure times vary - see the availability for the desired day on our website or call us on 08 9581 1242.
Please arrive on time for skipper's and safety briefing on the day of your booking. Your booked time is the arrival time.

MULTIPLE VESSELS
If you would like to hire multiple boats at the same time, please call us on 08 9581 1242.

IMPORTANT TO NOTE
WIND WARNING:
If at your hire time, the winds are deemed 'strong' by our crew, we may not be able to put the umbrella up on your BBQ boat, as it can be dangerous. Please wear appropriate sun protection - hat, sunglasses, sunscreen in the case we can't put the umbrella up. If this is an issue, please call our booking office on 08 9581 1242 to discuss the forecast for your hire time (It is recommended to do so 24 hours prior).

WEIGHT RESTRICTIONS:
The maximum weight limit for passengers including eskies is 480 kg; equals 4 adults and 2 children plus esky. If you bring more than 4 adults, you have to ensure that you do not exceed the maximum weight limit of 480 kg. Otherwise, please consider the 10-seater boat if you exceed the weight limit.


HIRE TERMS & CONDITIONS
To view our hire agreement that will require to be read and completed once booked or on the day please CLICK HERE.
If your cancellation is received with at least 7 day notice, your booking can be rescheduled to another date within 6 months free of charge.
If your cancellation is received with less than 3 days notice, your hire fee will be forfeited.
If Eco BBQ Boats has to cancel your booking (for example due to bad weather), you can choose to reschedule your booking or to get a full refund.
You and your passengers are required to arrive on time. If you arrive late, you still have to return the boat at the booked end time.
You respectively your nominated skipper must be over age of 21 and you are required to provide a valid driver's licence or passport.
You as the hirer are fully responsible for the safety of all passengers and all damages to the boat while on hire. All incidents must be reported.
Smoking, fishing and excessive drinking or beaching of the boat are not allowed while on hire.
Swimming is welcome during your hire but only when the vessel is securely tied up and turned OFF.
The skipper must remain sober (0.00 blood alcohol content) at all times. Generally, no intoxicated people allowed on board.
On the day a security bond of $500 is required as Credit Card Pre-Authorisation - no money is taken from your card unless vessels is damaged and hire agreement signed is broken.
If you return the boat dirty, you will be charged a cleaning fee of $50.
If you return the boat late, you wIll be charged with a late return fee of $50 for every 15 minutes.
Eco BBQ Boats reserves the right to limit the amount of alcohol on board.
Eco BBQ Boats reserves the right to refuse or suspend you the right to use our services at any time.
Eco BBQ Boats is not responsible for personal belongings.
Surcharge applies on public holidays
To view our full terms and conditions please CLICK HERE.

ONLINE BOOKINGS
Online bookings close 24 hours prior to departure. For bookings inside this time please call our booking office on 08 9581 1242.