Taste of the Bays Cruise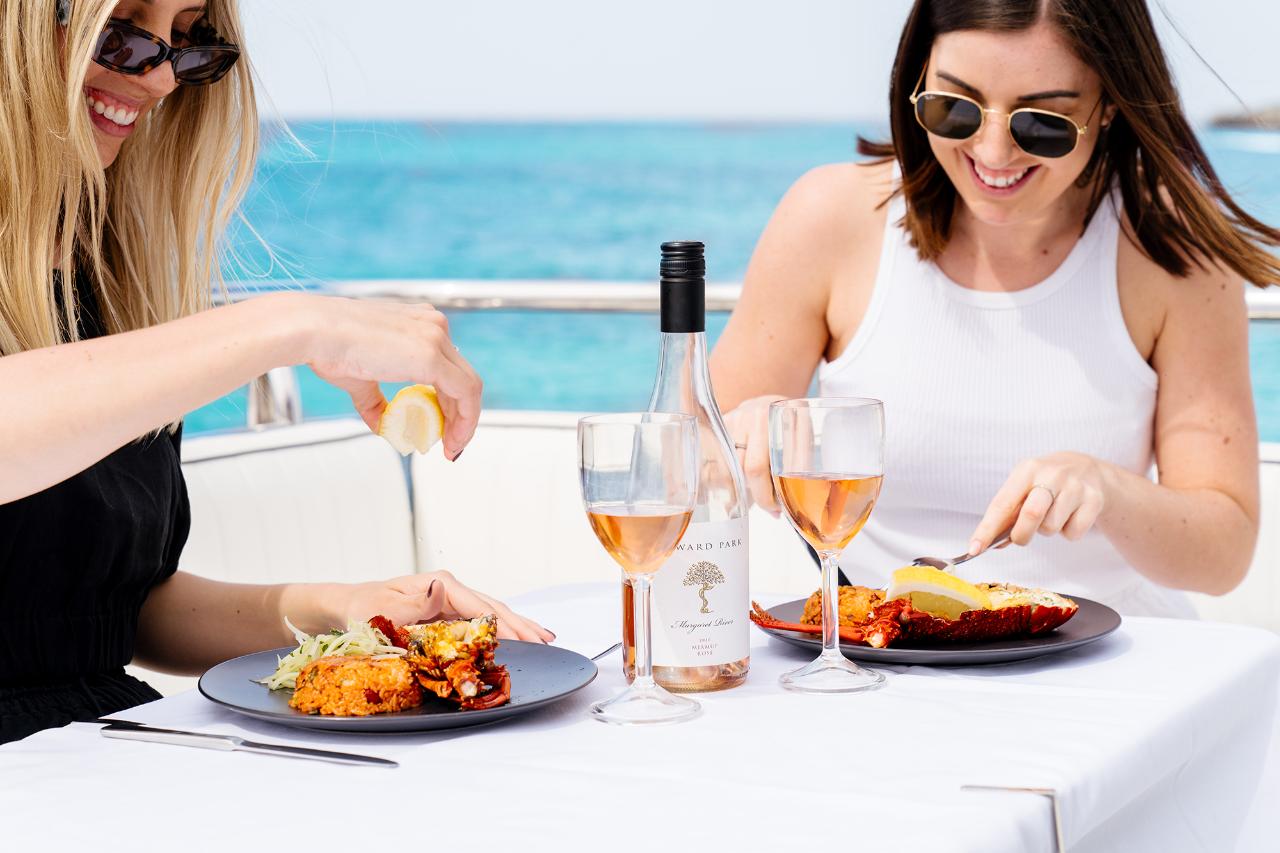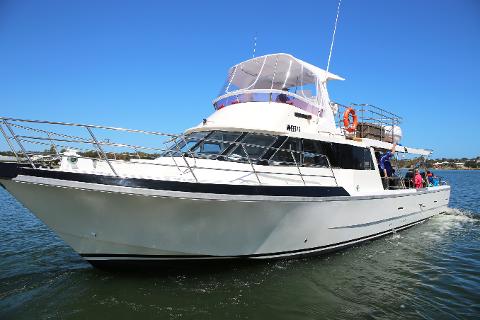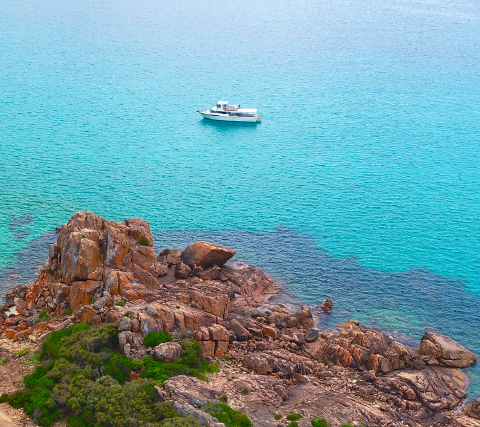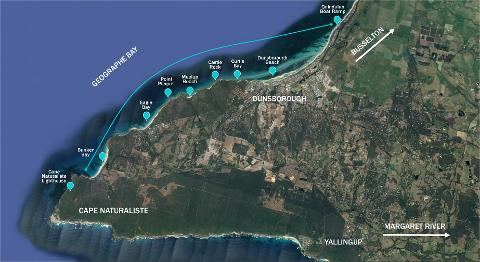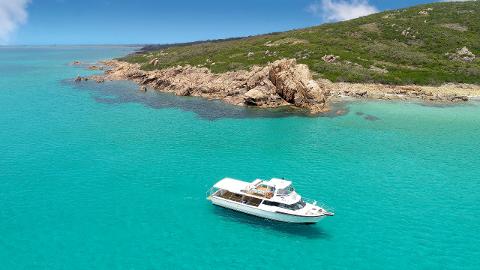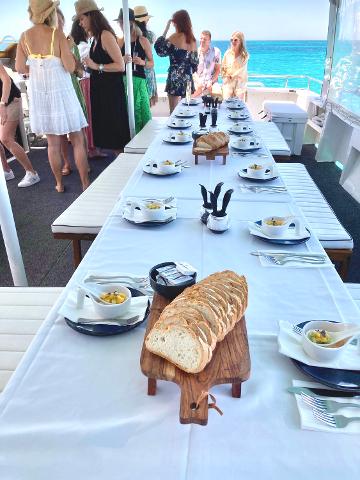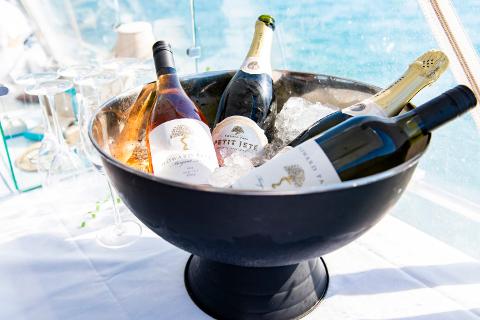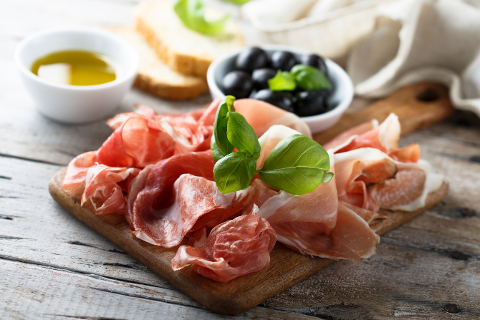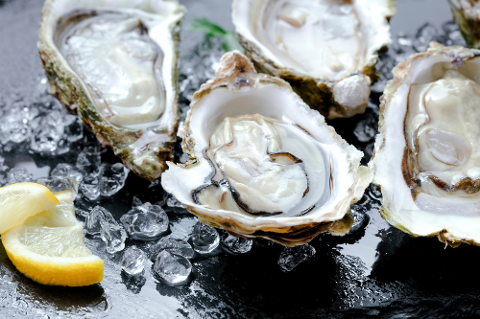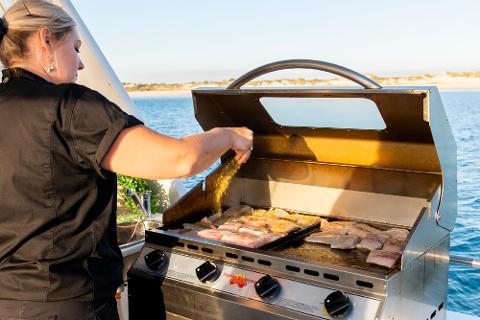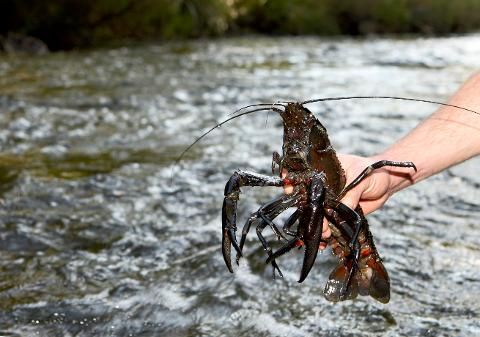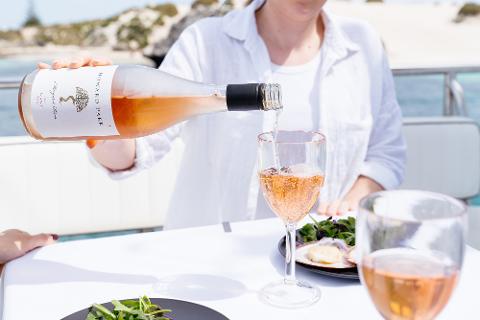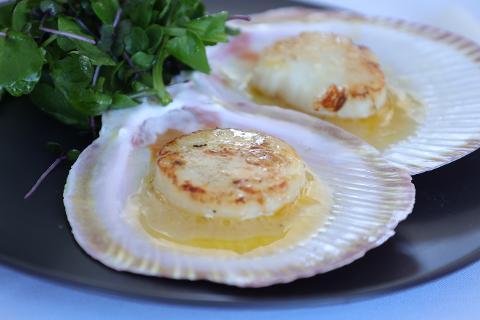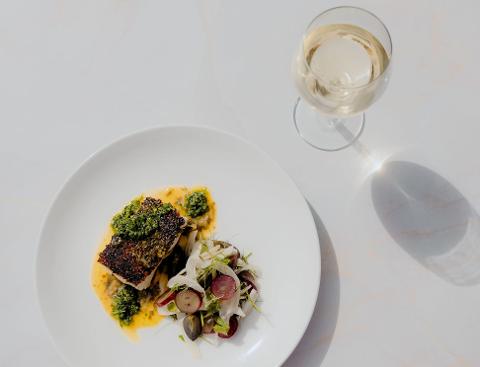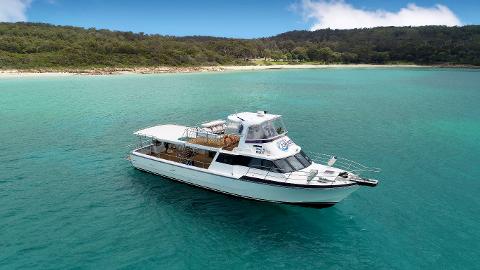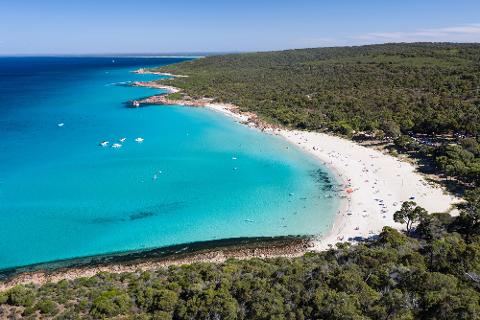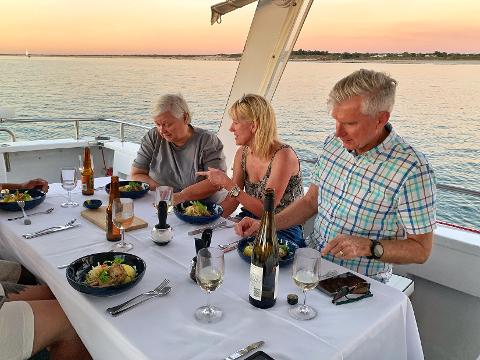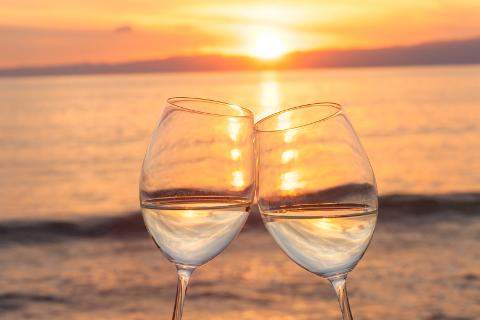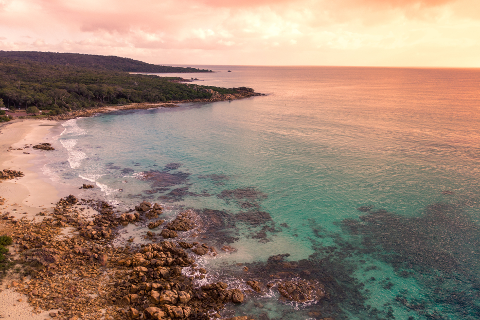 Duration: 4 Hours (approx.)
Location: Quindalup, Western Australia
Product code: SW-TOTBC
A deluxe dining experience on the water in Australia's South West


Join us for an all-inclusive afternoon and sunset cruise as we showcase the unique flavours and iconic coastal scenery of Western Australia's South West.

The Taste of the Bays Cruise is a half-day, progressive dining experience, visiting a series of beautiful bays with courses served along the way – each celebrating the quality produce of this exceptional region.
Our cruise feels just like a relaxed, private dinner party. As our guest, you are treated as a friend in our house, with superb, friendly service from expert crew.
After (optional) pickup from one of several local stops, we take you cruising on calm, crystal waters onboard a 60ft deluxe charter boat. Witness spectacular coastal scenery from the water, giving you a perspective of Geographe Bay and Cape Naturaliste that is rarely seen.
Sip on premium beverages, served complimentary as you cruise. Indulge in an exquisite 7-course degustation feast, crafted by a private onboard chef. Reflecting the best of the region, the gourmet menu features an array of delicious WA seafoods and fresh local ingredients the South West is renowned for. Each course is accompanied by paired wines from the winemaker at Howard Park Wines, Margaret River.
There is the chance to swim, float or just relax on board. To finish, Mother Nature presents you with a magical South West sunset, observed from this exclusive setting on the water.
The Experience
Arrive via a complimentary coach transfer (optional) from one of several local towns, to the tour departure point at Quindalup, located between Dunsborough and Busselton. The 3.5 to 4-hour voyage begins with a short transfer on a tender boat to our main cruise boat, Reel Affair II.
Enjoy a welcome gin cocktail as you step on board, followed by the first of your 7 freshly prepared courses.
Breathe in fresh South West air and absorb the region's most idyllic scenery, as you relax on the upper sun lounge deck or lower main deck. We slowly cruise the coastline of Geographe Bay to well-known beaches, bays and landmarks. Deluxe degustation courses are served along the way, as we take in views of Old Dunsborough, Curtis Bay, Castle Rock, Meelup Beach, Point Picquet, Eagle Bay and Bunker Bay. (Note - the cruise route may vary subject to weather conditions)
The menu features West Coast Rock Oysters, South West Blue Swimmer Crab, line-caught local fish (such as Dhufish), Abrolhos Island Sea Scallops, Blue Ridge Marron, Southern Forests Black Truffle, Yallingup cheeses and woodfired breads, Margaret River nougat and chocolate, and more.
The gourmet feast has carefully matched wines from Howard Park. Your choice of premium beverages are served throughout the cruise, including still and sparkling wines, locally-brewed boutique beers and cider, plus imported beers, non-alcoholic beverages and soft drinks.
While nestled in a tranquil bay, you can choose to dip your toes in, swim, snorkel or relax on float mats, or simply relax on deck and enjoy the view.
Anchored close to shore, we transition to seated, white-tablecloth dining for main courses. Watch the sun set over the tree-covered ridge of Cape Naturaliste, from the most breathtaking vantage point there is, floating on water.
ALL-INCLUSIVE PACKAGE
The Taste of the Bays Cruise is an all-inclusive experience, unique to South West Cruises. Your package includes: 
Return coach transport from major Dunsborough, Yallingup and Busselton accommodation locations. See 'Complimentary Transfers' below for list of pickup points.
Coastal cruising on calm water aboard our purpose-built premium charter boat, Reel Affair II. Vessel features a large open lower deck and upper viewing sun deck with 2 seating areas.
A progressive, floating dining experience visiting iconic bays of the South West region, with courses served at locations along the route.
Small group experience, with a maximum 22 guests on a boat built for 37 passengers. 
Welcome gin cocktail, followed by complimentary beverages throughout the cruise, including premium still and sparkling Howard Park Margaret River wines, local craft beers and cider from Margaret River's Colonial Brewing Co, plus a selection of imported beers and soft drinks.
Private chef on deck, with live action of a fresh seafood barbecue / open kitchen.
A 7-course gourmet degustation, full of flavours reflecting the best of the South West region. The menu features an array of seafood delicacies and fresh, local produce and ingredients.
Combination of relaxed, cocktail-style dining and seated, longtable dining with white linen tablecloths.
Option to swim off the boat in the late afternoon, with snorkelling gear and float mats available.
Opportunity to relax on board and enjoy breathtaking coastal scenery from prime, rare vantage points on water.
Prime position to watch the sun set over Cape Naturaliste, with views of stunning cliff formations and the Cape Naturaliste Lighthouse.
Chance to spot dolphins at play or seals from the local seal colony.
Full service and expert commentary from South West Cruises' friendly and experienced crew. 


MENU:
Deluxe 7-course progressive dinner, with drinks inclusive

Welcome:
Rose Mint Fizz Cocktail

One:
Charcuterie Board featuring Margaret River Cured Meats from Farm House Margaret River, handmade Cheese from Yallingup Cheese Company, Organic Olive Oil from Olio Bello, Olives and Dukkah
Suggested - Howard Park Petit Jeté NV

Two:
Trio of West Coast Rock Oysters, Classic Mignonette
Suggested - Howard Park Flint Rock Riesling

Three:
Blue Ridge Manjimup Marron Pate with Yallingup Woodfired Sourdough
Suggested - Howard Park Miamup Rosé

Four:
Seared Abrolhos Island Sea Scallops with zesty Red Pepper Relish
Suggested - Howard Park Miamup Chardonnay

Five:
Mandurah Blue Swimmer Crab and Ricotta Cannelloni, with Manjimup Black Truffle Butter and fresh Bread
Suggested - Howard Park Heritage Chardonnay (Main Course Exclusive)

Six:
Local line-caught Fish-of-the-Day, Lemon Crust, Gremolata with Fennel and Grape Salad
Suggested - Howard Park Flint Rock Pinot Noir

Seven:
Icon Honey Creamy Crumble with Berries
Bahen & Co Chocolate Figs and Bettenay's Nougat
Suggested - Howard Park Muscat

Beverages:
Matched wines are suggested with each course (above). The full wine list and beverage selection below is available for your enjoyment throughout the cruise. Please note – we follow strict responsible service of alcohol requirements, for the safety of all our guests.

Premium still and sparkling wines from Margaret River's Howard Park Wine range:
Petit Jeté NV
Miamup Rosé
Flint Rock Riesling
Miamup Chardonnay
Flint Rock Pinot Noir
Miamup Cabernet
Quality bottled beers and cider from Margaret River's Colonial Brewing Co, plus Corona and 150 Lashes.

Non-alcoholic beverages are served throughout including Freixenet non-alcoholic sparkling wine, Heaps Normal non-alcoholic beer, soft drinks and water.

* Please note – menu may have some seasonal variations.

DIETARY REQUIREMENTS
With advance notice, we can cater for gluten-free, dairy-free and non-seafood diets – please advise us of special dietary requirements in the notes section of your booking, to ensure you receive our Alternative Menu.
At least 72 hours' notice is required for any special requirements. Notification of food intolerances on the day is unlikely to be able to be accommodated, as logistics are planned well in advance.
Please be aware, as we are a boat with limited cooking facilities, we cannot vary the menu a great deal. If you do have particular dietary requirements, please call us on +61 8 9586 1136 so we can consult with our chef.
We cannot take bookings from guests with anaphylactic allergies, as given our small cooking environment on board, we cannot guarantee an allergen-free environment.
COMPLIMENTARY TRANSFERS

This tour includes complimentary transfer to and from
Dunsborough Yacht Club
, from many major resorts from Busselton to Yallingup . Pickup locations are as follows and can be chosen when you make your booking:
Busselton Jetty Visitor Centre
Gail Street Motel & Villas
Busselton Villas & Glamping Village
Amalfi Resort Busselton
BIG4 Beachlands Holiday Parks, Busselton
Restawhile Motel
Mandalay Holiday Resort, Busselton
Sandy Bay Holiday Park
Geographe Bay Holiday Park
Broadwater Resort
The Sebel Busselton
Bayview Geographe Resort
Abbey Beach Resort
Aqua Resort
RAC Busselton Holiday Park
Siesta Park Holiday Resort
Fourseasons Holiday Park
Ramada Resort By Wyndham Dunsborough
Dunsborough Lakes Holiday Resort
Cape Villas Dunsborough
Empire Spa Retreat Yallingup
Dunsborough Central Motel
Dunsborough Tavern
Bay Village Dunsborough
Dunsborough Beach Lodge
Waterfront Dunsborough
Whalers Cove Villas
Dunsborough Beach Cottages
Halycon Bay
Geographe Cove Resort
Regancy Beach Club
Bayshore Beachside Resort
CHECK EMAILS & MESSAGES 24 HOURS PRIOR TO YOUR TOUR FOR YOUR CONFIRMED PICKUP TIME. Please be at your nominated pickup location 10 minutes before the confirmed pickup time and allow 10 minutes after your pickup time before contacting us.


Your package concludes with the return trip back to the above locations.

If not travelling with us by coach, please make your own way to Dunsborough Yacht Club ready to board on time (which is set in line with sunset times).

COVID SAFETY

The health and safety of our guests and staff are our absolute priority. We are taking extra measures to ensure we are operating at the highest of health and safety standards to prevent the spread of COVID-19.
A COVID-19 safety plan is in place.
All our staff have completed the Australian Hotels' Association Hospitality & Tourism COVID-19 Hygiene Course.
A hygiene officer is present on all our cruise activities.
All other measures, as required by the Western Australian Government during this recovery period, are strictly followed.
Please contact us if you have any concerns or questions regarding our COVID policy. For further information on Western Australia's COVID safety requirements, visit WA.gov.au.

TOUR DATES & PRICES
*Operates January to April *
Wednesday to Sunday
Please check the availability calendar for our cruise schedule and availability.

We welcome group bookings, so if you have a group and wish to join outside our availability, please contact us directly.

PRICES (all inclusive)
$329 Adult | $319 Seniors

This tour is not recommended for children under 12 years. Children under 5 years are not permitted.

SWIMMING WAIVER
On arrival at anchorage we do allow swimming off the boat. We have some snorkels aboard which can be used. If you choose to swim, you do so at your own risk and only in safe conditions once the crew allow access off the boat.  You will be required to read and sign a swimming waiver (see links in your confirmation email) for each person in your booking. If you have any questions, please call our booking office on +61 8 9586 1136.

PREPARATION
Bring a print out of this booking confirmation or present it on your phone to board your cruise.
If you would like to swim off the boat, please wear/bring bathers and bring a towel. We ask you to sign a swimming waiver (for each person in the group) if you wish to swim.

Recommended dress is smart casual. Wear appropriate clothing for the weather and sun protection - hat, sunglasses etc.

You may (on occasion) need to walk a very short distance in minimal water, so we suggest wearing flat footwear. You are welcome to remove and store shoes on the boat (being mindful of safety). Please wear clothes that can be rolled up if needed, and won't be damaged if they are splashed with sea water.

Dunsborough waters are calm, however, if you suffer from motion sickness (or are not sure), please take medication prior to arriving. Motion sickness can be very unpleasant and we are not allowed to give any medication other than herbal remedies.
ACCESS REQUIREMENTS

This tour requires all guests (under supervision from crew) to step from the beach or very shallow water onto a tender boat (about 30cm), and then from the tender onto the main boat, and so you must be mobile enough to do this. If you have any people in your group with special mobility requirements, please contact our booking office on
+61 8 9586 1136
to discuss if this tour is suitable, before booking.
BOARDING
On arrival at
Dunsborough Yacht Club
we will take you out from the beach via a smaller tender vessel to our cruise vessel, Reel Affair II. There may be the need to do several tender transfers, depending on guest numbers. Refreshments are provided throughout boarding, and this is a chance for you to relax on board the boat and get to know our crew, or swim from the beach during this time if you wish.
CRUISE DEPARTURE LOCATION
Dunsborough Yacht Club - 307 Geographe Bay Rd, Quindalup WA 6281
.
ONLINE BOOKINGS

Online bookings close 48 hours prior to departure. For bookings inside this time, please call our booking office on
+61 8 9586 1136
.
TERMS & CONDITIONS
Smoking is not permitted aboard any of South West Cruises' vessels or our coach vehicle. All bookings are subject to our terms and conditions which can be viewed
HERE
.